Dew Bear lives with his many strange and wonderful friends and family in a place called Memory Forest, where everyday is an adventure!
Every story in the Dew Bear series is a special moment in Dew Bear's life…and there are many.
---
The Dew Bear stories are a children's chapter book series primarily for ages 5-8 (kindergarten through 3rd grade), but have been enjoyed by folks of all ages – especially those in their 60's – could be they enjoy reading to their grandchildren, or it's just because, as they say, we become child-like as we get older.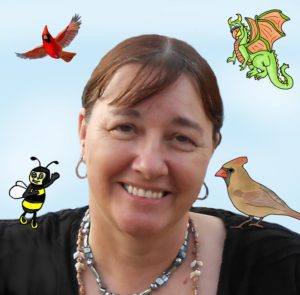 All the characters are based on real people in my life (of course, I am Dew Bear). Some are easy to spot if you know me … others are more subtle. There are LOTS of characters because life is full of people you meet. Some make lasting impressions, others are fleeting shadows. But everyone we meet touches our lives in some special way, even if just briefly. I am honored that I am able to immortalize many of the people who matter to me (whether they want to be immortal or not!).
---
I do all my own illustrations using Sketchbook Pro – an amazing (and affordable) graphic design software. I made thousands of drawings of characters in different poses, trees, bushes, flowers, food, furniture, structural components, skies, grasses, water scenes, etc. I sometimes incorporate real things – for example,  some artwork my mom and nieces have done became pictures on the walls. A blanket my sister crocheted shows up on the back of a cozy chair. And, of course, me … for the author's page!
The fun part is thinking up a picture that goes with the story and turning my imagination into reality with Sketchbook. All scenes are loaded with tiny details because my mother loved to play hidden object games – my details may not be "hidden", but I hope they capture your attention and make you feel like you are really inside Memory Forest.
---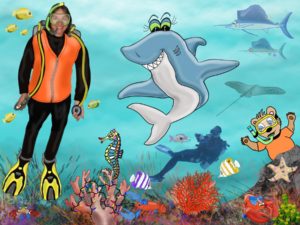 I also incorporate little things that have meaning to me throughout the stories. Especially in Book 1 where so much of the inspiration for names of places and things were a result of things my mother liked (Peppermint Patty Park, Pickle Fork, Potato Chip Creek). Much of my writing reflects things I have heard people say – or the way they say them. I have tried to capture the essence of each character based on who they are in my life. But, the good thing about a fictional children's story is that the characters can become whoever YOU want them to be.
Join Dew and friends on their adventures, and let your imagination run wild. (I did!)
---
Sometimes I find myself immersed in Dew's world …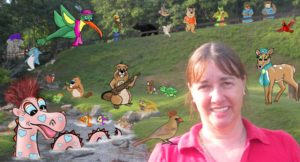 and sometimes he is in mine!!!
Dew stories were just the start of my imagination. I have published a couple non-Dew Bear stories – Magic Pencil and My Name is Willa. I am currently working on another to be called Fantastical Voyage – about a little boy named Fred who falls asleep on a sailboat – and you guessed it – has a fantastical voyage upon the sea where he meets all kinds of special creatures including a mosquito named Sophie, Lucy the mermaid, and Tolly – well, he's a creature you have to see to believe. We should be ready to set sail in the Winter of 2021.
---
Click on the side bar tabs
to view each of the 
stories so far.
You can even read the first 3 chapters of each book (in pdf version).